News
Thursday, April 9, 2020 12:22 PM
𝗕𝗮𝗿𝗯𝗮𝗿𝗮 𝗕𝗼𝗿𝘀𝗮𝗰𝗸 & 𝗥𝗶𝗰𝗵𝗮𝗿𝗱 𝗟𝗮𝘄𝗹𝗲𝗿 𝗼𝗻 𝗪𝗟𝗡𝗚 𝗥𝗮𝗱𝗶𝗼
𝗗𝗲𝗽𝘂𝘁𝘆 𝗠𝗮𝘆𝗼𝗿 𝗕𝗮𝗿𝗯𝗮𝗿𝗮 𝗕𝗼𝗿𝘀𝗮𝗰𝗸 & 𝗠𝗮𝘆𝗼𝗿 𝗥𝗶𝗰𝗵𝗮𝗿𝗱 𝗟𝗮𝘄𝗹𝗲𝗿 were on radio station WLNG with Gary Sapiane, this morning, to update the community on the COVID-19 response in the Village of East Hampton.
---
Wednesday, April 8, 2020 7:45 AM
𝗟𝗲𝘁𝘀 𝗧𝗮𝗹𝗸 𝗔𝗯𝗼𝘂𝘁 𝗦𝗼𝗺𝗲 𝗜𝘀𝘀𝘂𝗲𝘀

Photo by Richard Lewin
---
Tuesday, April 7, 2020 11:59 AM
𝗕𝗮𝗿𝗯𝗮𝗿𝗮 𝗕𝗼𝗿𝘀𝗮𝗰𝗸 & 𝗥𝗶𝗰𝗵𝗮𝗿𝗱 𝗟𝗮𝘄𝗹𝗲𝗿 𝗼𝗻 𝗪𝗟𝗡𝗚 𝗥𝗮𝗱𝗶𝗼
𝗗𝗲𝗽𝘂𝘁𝘆 𝗠𝗮𝘆𝗼𝗿 𝗕𝗮𝗿𝗯𝗮𝗿𝗮 𝗕𝗼𝗿𝘀𝗮𝗰𝗸 & 𝗠𝗮𝘆𝗼𝗿 𝗥𝗶𝗰𝗵𝗮𝗿𝗱 𝗟𝗮𝘄𝗹𝗲𝗿 were on radio station WLNG with Gary Sapiane, this morning, to update the community on the COVID-19 response in the Village of East Hampton.
New York State Information Page
---
Thursday, April 2, 2020 9:40 AM
𝗕𝗮𝗿𝗯𝗮𝗿𝗮 𝗕𝗼𝗿𝘀𝗮𝗰𝗸 & 𝗥𝗶𝗰𝗵𝗮𝗿𝗱 𝗟𝗮𝘄𝗹𝗲𝗿 𝗼𝗻 𝗪𝗟𝗡𝗚 𝗥𝗮𝗱𝗶𝗼
𝗗𝗲𝗽𝘂𝘁𝘆 𝗠𝗮𝘆𝗼𝗿 𝗕𝗮𝗿𝗯𝗮𝗿𝗮 𝗕𝗼𝗿𝘀𝗮𝗰𝗸 & 𝗠𝗮𝘆𝗼𝗿 𝗥𝗶𝗰𝗵𝗮𝗿𝗱 𝗟𝗮𝘄𝗹𝗲𝗿 were on radio station WLNG with Gary Sapiane, this morning, to update the community on the COVID-19 response in the Village of East Hampton.
WLNG Facebook Link to interview
---
Monday, March 30, 2020 12:54 PM
𝗕𝗮𝗿𝗯𝗮𝗿𝗮 𝗕𝗼𝗿𝘀𝗮𝗰𝗸 & 𝗥𝗶𝗰𝗸 𝗟𝗮𝘄𝗹𝗲𝗿 𝗶𝗻𝘁𝗲𝗿𝘃𝗶𝗲𝘄 𝘁𝗵𝗶𝘀 𝗼𝗻 𝗪𝗣𝗣𝗕 𝗦𝗼𝘂𝘁𝗵𝗮𝗺𝗽𝘁𝗼𝗻
𝗕𝗮𝗿𝗯𝗮𝗿𝗮 𝗕𝗼𝗿𝘀𝗮𝗰𝗸 & 𝗥𝗶𝗰𝗸 𝗟𝗮𝘄𝗹𝗲𝗿 were interviewed this morning on WPPB radio Southampton with Gianna Volpe regarding the continuing Covid-19 crisis.

Click on Logo to hear interview
---
Monday, March 30, 2020 9:18 AM
𝗠𝗲𝘀𝘀𝗮𝗴𝗲 𝗙𝗿𝗼𝗺 𝗕𝗮𝗿𝗯𝗮𝗿𝗮 𝗕𝗼𝗿𝘀𝗮𝗰𝗸

Photo by Richard Lewin
A message from Barbara Borsack
---
Monday, March 30, 2020 8:55 AM
𝐋𝐢𝐯𝐢𝐧𝐠 𝐍𝐞𝐱𝐭 𝐃𝐨𝐨𝐫 𝐓𝐨 𝐇𝐢𝐬𝐭𝐨𝐫𝐲
𝐋𝐢𝐯𝐢𝐧𝐠 𝐍𝐞𝐱𝐭 𝐃𝐨𝐨𝐫 𝐓𝐨 𝐇𝐢𝐬𝐭𝐨𝐫𝐲
"The Replacement of the East Hampton LIRR Bridges"
By Richard Lewin


---
Friday, March 27, 2020 1:41 PM
𝗪𝗟𝗡𝗚 𝗶𝗻𝘁𝗲𝗿𝘃𝗶𝗲𝘄 𝟬𝟯-𝟮𝟲-𝟮𝟬
Barbara Borsack & Rick Lawler sat down with WLNG's Gary Sapiane to update the community on the latest information concerning the Coronavirus crisis.
---
Thursday, March 26, 2020 10:45 AM
𝗚𝗼𝗼𝗱 𝗠𝗼𝗿𝗻𝗶𝗻𝗴 𝗙𝗿𝗶𝗲𝗻𝗱𝘀
These are unprecedented times and as an elected official I am busier than I ever have been. As we work on keeping essential services running smoothly while protecting our dedicated and amazing employees, we are also trying hard to answer the unending inquiries from residents, friends, and media. We are inundated with texts, emails, and phone calls. So please understand that I am not able to continually monitor my FB page.
Please, if you have a question or concern, there is staff at village hall and you can call there at 324-4150. The police department is fully functioning (631-324-0777 - please use 911 for emergencies only!) and you can call there. The village FB page and website post regular updates as do the town's. Please know I will do my best to address questions however they arrive, but if you don't get an immediate response it's simply because I haven't even seen it yet. We are all trying our best in new territory and ask for your patience!
Please stay at home and stay safe. If you feel unwell contact your local healthcare provider and if you need to go to the ER try to find a family member to take you if at all possible. Our emergency services will respond if necessary but remember we need to keep them healthy and available as well.
We are all in this together-let's be the community we know we are! Let's look out for each other, check on our neighbors (especially those who are alone), and let's pull each other through this crisis with generosity and grace!
---
Tuesday, March 24, 2020 11:19 AM
𝗜𝗻𝘁𝗲𝗿𝘃𝗶𝗲𝘄 𝗼𝗻 𝗪𝗟𝗡𝗚 𝗿𝗲𝗴𝗮𝗿𝗱𝗶𝗻𝗴 𝗖𝗼𝘃𝗶𝗱-𝟭𝟵 𝗟𝗼𝗰𝗮𝗹 𝗥𝗲𝘀𝗽𝗼𝗻𝘀𝗲
WLNG's Gary Sapiane interviewed Barbara Borsack & Richard Lawler this morning regarding the local response to the Covid-19 crisis.
---
Monday, March 23, 2020 6:10 PM
𝗕𝗮𝗿𝗯𝗮𝗿𝗮 𝗕𝗼𝗿𝘀𝗮𝗰𝗸 & 𝗥𝗶𝗰𝗸 𝗟𝗮𝘄𝗹𝗲𝗿 𝗼𝗻 𝗟𝗧𝗩-𝗙𝗮𝗰𝘁𝘀@𝗙𝗶𝘃𝗲
Barbara Borsack & Rick Lawler were guests on LTV's Facts@Five this afternoon./
They gave an update on Covid-19 in East Hampton Village.
Click the link to view the video Live@Five 03-23-2020
---
Friday, March 20, 2020 7:58 AM
𝗜𝗻 𝗠𝗮𝘆𝗼𝗿𝗮𝗹 𝗥𝗮𝗰𝗲, 𝗮 𝗖𝗼𝗻𝘁𝗲𝘀𝘁 𝗼𝗳 𝗜𝗱𝗲𝗮𝘀
𝗜𝗻 𝗠𝗮𝘆𝗼𝗿𝗮𝗹 𝗥𝗮𝗰𝗲, 𝗮 𝗖𝗼𝗻𝘁𝗲𝘀𝘁 𝗼𝗳 𝗜𝗱𝗲𝗮𝘀
E.H.Star / Opinion / March 19, 2020
Despite the acrimony and a hint about a surprise third candidate, the prospect of a contested election for East Hampton Village mayor has already proven to be a good thing. In years past, when Paul F. Rickenbach Jr. ran unchallenged, there was scarce debate or even airing of issues. Now, with Barbara Borsack, the current deputy mayor, Jerry Larsen, a retired village police chief, and, apparently, Tiger Graham, a village trustee, seeking the center chair, it seems everything is up for discussion.
In large part, the contest of ideas comes down to two competing visions of East Hampton. Ms. Borsack represents a residents-first status quo. Mr. Larsen, who lived outside of the village until he decided to run, has adopted the views of business owners and commercial landlords. Mr. Graham's official pronouncements will be forthcoming; how he will find a place in this spectrum is still unclear.
What is clear is that the fragile balance between residents' needs and desires and the demands of the commercial sector is really what the growing battle is all about.
This is also the village's 100th year since incorporation. In that time, successive generations of residents have chosen elected officials who valued tradition over change. We believe that this should be the victorious principle when the village polling places close on June 16.
The world around us may be in serious straits but East Hampton's time-honored values remain on solid footing and will help us pull through.
---
Thursday, March 19, 2020 10:00 AM
𝗟𝗲𝗮𝗱𝗲𝗿𝘀𝗵𝗶𝗽 𝗶𝗻 𝗩𝗶𝗹𝗹𝗮𝗴𝗲 𝗛𝗮𝗹𝗹
---
Thursday, March 19, 2020 9:55 AM
𝗘𝗹𝗲𝗰𝘁
---
Thursday, March 19, 2020 7:59 AM
𝗢𝘂𝗿 𝗧𝗼𝗽 𝗣𝗿𝗶𝗼𝗿𝗶𝘁𝗶𝗲𝘀
---
Thursday, March 19, 2020 7:41 AM
𝗝𝗼𝗶𝗻 𝗨𝘀
---
Friday, March 13, 2020 7:57 AM
𝗕𝗮𝗿𝗯𝗮𝗿𝗮 𝗕𝗼𝗿𝘀𝗮𝗰𝗸 𝗟𝗲𝘁𝘁𝗲𝗿 𝘁𝗼 𝗘𝗱𝗶𝘁𝗼𝗿 𝗘𝗮𝘀𝘁 𝗛𝗮𝗺𝗽𝘁𝗼𝗻 𝗦𝘁𝗮𝗿 (𝗠𝗮𝗿𝗰𝗵 𝟭𝟮, 𝟮𝟬𝟮𝟬)
Continuous Breach
East Hampton, March 6, 2020
Dear Editor:
People who know me will tell you I'm not a person who likes to speak ill of others, but there comes a time in life when not speaking up against untruths and allowing anyone to be bullied with false accusations can no longer be tolerated. For me, that time arrived last week with Jerry Larsen's outrageous letter to The Star, full of so many inaccuracies as to be worthy of a true work of fiction. I would like to clarify a few points.
First, for a very long time village law has not allowed "fast food" establishments, and for a very long time has worked well at eliminating any proliferation of the fast-food chains in the village. Dylan's Candy Store, which is not a restaurant and does not have seating, met the definition of fast food when it wanted to sell ice cream. They applied to the village to be allowed to serve ice cream and their application was granted by the East Hampton Village Zoning Board of Appeals. They've been serving ice cream ever since.
The village board had already made a decision to take garbage cans off the beaches, which we did last summer. They will not be back on the beaches this summer in our continuing effort to keep our beaches clean. That decision was made in conjunction with the East Hampton Town Trustees, who have jurisdiction over the beaches.
The inns in the village are all in pre-existing, non-conforming locations, which means that they were already in operation prior to zoning. Because they are in residential neighborhoods their expansion is strictly regulated because the village is committed to protecting the residents in the neighborhoods surrounding them, restricting the noise and traffic that would accompany many of the expansions of such use. The present village board is open to some changes in the restrictions on their use, and is open to granting permission for some amenities that will not disturb the peace and quiet of the residential neighborhoods surrounding them. But our residents and the peaceful enjoyment of their homes are always our first priority.
The village board has previously purchased hybrid vehicles for their fleet. However, when it was suggested years ago that the police department could use hybrids, the department quickly nixed the idea because the technology was not yet at a place where they were appropriate for police work. Now the technology has improved, and we are able to purchase them for the police department. I believe the village should be on a plan to phase out fossil fuels, and replacing vehicles with electric is a priority.
I have no desire to address all of Mr. Larsen's sad campaign accusations, but the facts are the facts, and the public has the right to know that he has never been one to be bothered by facts.
I prefer to deal in facts such as these:
Jerry Larsen was a problem employee from the moment he took office as chief of the East Hampton Village Police Department.
Chief Larson was required to attend sensitivity training due to racially charged comments he made at a public event (from the microphone), which resulted in police officers from neighboring departments calling for his resignation.
Chief Larsen spent more time in executive sessions with the village board than any other employee, in attempts by the board to counsel him that inappropriate behavior by a department head would not be tolerated.
Chief Larsen was disciplined for numerous instances of poor judgment, which included mishandling of his police budget, and the inappropriate personal use of his village-issued cellphone and vehicle.
Chief Larsen was asked to divest himself of his interest in his security business, which was becoming a conflict of interest with his work. He promptly transferred his interest to his wife, and continued to run it anyway.
Jerry Larsen's continuous breach of sound ethical practices in his conduct as chief of police finally resulted in the village board informing him that his contract would not be renewed. However, in consideration of his many years as an employee, he would be allowed to retire and was presented with the traditional proclamation. Jerry Larsen's response was to file a frivolous lawsuit against the village as an act of revenge. This lawsuit was summarily dismissed by the court. It's unfortunate that his attempts to exact revenge have cost the taxpayers thousands of dollars in legal fees.
Despite all this, in his quest to gain more power in the village, he decided to run for the position of mayor. Since he lives in the town, not the village, and has for his entire adult life, he needed to establish residency so he rented a small apartment on Newtown Lane where he could pretend to live. Then he began attending village board meetings and formed an election platform from all the issues that were being addressed by the board at the time (Herrick Park, downtown revitalization, sewage treatment, parking, etc.). Who is following whose lead?
Now, he is in the process of trying to exact his final revenge against the only two members of the board (who voted to let him go) who are still active, by spreading lies and rumors as well as trying to take credit for everything the board is acting on.
I trust that the village residents know that the only type of leading Jerry Larsen is doing is to foster his own personal interests because he has proven that time and time again. The village deserved a better chief of police, which we now have. (Statistics clearly show incredible increases in patrols and enforcement since our present chief took command.) And the village deserves a mayor with more integrity, who actually lives in the village, and pays village taxes like every other property owner.
Sincerely,
BARBARA BORSACK
East Hampton Village trustee
---
Friday, March 13, 2020 7:50 AM
𝗥𝗶𝗰𝗵𝗮𝗿𝗱 𝗟𝗮𝘄𝗹𝗲𝗿 𝗟𝗲𝘁𝘁𝗲𝗿 𝘁𝗼 𝗘𝗱𝗶𝘁𝗼𝗿 𝗘𝗮𝘀𝘁 𝗛𝗮𝗺𝗽𝘁𝗼𝗻 𝗦𝘁𝗮𝗿 (𝗠𝗮𝗿𝗰𝗵 𝟭𝟮, 𝟮𝟬𝟮𝟬)
Democracy at Work
East Hampton, March 6, 2020
Dear Editor,
I write in response to Jerry Larsen's letter to the editor in last week's Star.
Unlike what Jerry Larsen would have you believe, he is not the first to have discussed possible changes to our East Hampton Village Code. Many of the ideas he claims to have conceived have been discussed in various forms in the past, but did not become codified for various reasons. In many cases, a consensus could not be reached because of some differences among board members as well as concerned residents at the time. After all, that is democracy at work.
Remember, that this village is 80 to 85 percent residential and the village board must respond to the residents' needs as well as the business community requests. It's not always easy to come to a consensus between two differing viewpoints. A good example of that was the village board meeting on March 5. During the public comments at the meeting, it became obvious that not all businesses are in favor of the street fairs in the village, particularly considering the time of year and when street closings are involved. Your board is actively working to foster a solution that is acceptable to both sides.
Anyone who has bothered to contact the board with concerns becomes keenly aware of how hard we try to accommodate when possible. It is not village government's responsibility to organize or actively direct these large community events. The board simply grants the permit for the event based on community input and then, where possible, we provide the appropriate support in the form of policing and Department of Public Works staffing and equipment. Jerry Larsen's notion that East Hampton Village is the "village of no" is completely false. This village hosts six large community events every year, beginning with the Polar Bear Plunge (350 people in attendance), the Spring Fair, the Artists and Writers softball game, the August Street Fair, The Fall Street Fair, and the Christmas Parade and Street Fair. That is as much or more than other communities on the East End host. Sorry Jerry Larsen, but your disinformation campaign is not working.
Jerry Larsen consistently tries to demean the hard work of this village board by trying to find every little thing he perceives that is wrong with the village. I prefer to concentrate on all the things that are good with our community. For example, the preservation of our historic sites, the recently begun initiative to protect our surface waters, the refurbishing of Herrick Park, the research into a new parking system for the future as well as a sewer system, and the recently talked about traffic advisory committee. All of this will help bolster the success of our commercial core businesses.
Jerry Larsen claims we are following his lead. This couldn't be further from the truth. I remind you that his lead as village police chief led to his receiving many reprimands and severe punishment (he forfeited 30 days' pay) for mismanagement of the East Hampton Village Police Department.
His lack of self-awareness in order to reflect on his numerous shortcomings as a leader eventually led to his being fired in 2016 by a unanimous decision of the village board. (He does collect retirement from New York State because he had vested in the retirement system.) He has sought retribution in the form of frivolous lawsuits and constant Freedom of Information Act requests (18 so far) from the village since his termination.
Additionally, he has made outrageous claims of misconduct by everyone else with no proof whatsoever. Is that the character of a leader? I think not.
Jerry Larsen wants to fundamentally change this village overnight by allowing loud amplified music at our quaint old inns and downtown businesses. That's how the problems with "night clubs" in Montauk began. Once that happens here, we will never get back the beautiful, quiet village that currently draws an overwhelming majority of tourists to our community.
In contrast, Barbara Borsack, I, and Ray Harden support gradual, incremental change after a thorough vetting for all the residents to review. Then, and only then, will we move forward with reasonable changes that contribute to our wonderful way of life for both residents and business owners alike.
RICK LAWLER
East Hampton Village mayor
---
Thursday, March 5, 2020 11:33 AM
𝗪𝗮𝘁𝗲𝗿/𝗪𝗮𝘆𝘀
East Hampton Village Board members Barbara Borsack & Richard Lawler attended the opening of "Water/Ways" at Clinton Academy on Saturday afternoon, February 29th.
https://indyeastend.com/arts/indy-snaps/water-ways/
---
Wednesday, February 26, 2020 6:51 PM
𝗘𝗮𝘀𝘁 𝗛𝗮𝗺𝗽𝘁𝗼𝗻 𝗜𝗻𝗱𝗲𝗽𝗲𝗻𝗱𝗲𝗻𝘁 𝗔𝗿𝘁𝗶𝗰𝗹𝗲 (𝗙𝗲𝗯 𝟮𝟱𝘁𝗵)
East Hampton Village Mayor Richard Lawler announced Friday a coming improvement over the police interceptor utility vehicles, currently in use.
At the February 21 monthly board of trustees meeting, he detailed the purchase of a 2020 Ford Police Interceptor Utility Hybrid SUV, which is a Ford Explorer modified for police use. It could potentially save taxpayers between $3500 and $5700 per year in fuel costs, Lawler said.
"It would also contribute to 'making the planet a better place,'" he added.
The village hasn't committed to a full fleet, but will assess the matter down the road.
A $10,000 check was also presented to the board from the Village Preservation Society of East Hampton to be used toward the restoration of the Dominy shops on North Main Street.
The planned exhibition space is filled with Dominy memorabilia, including the East Hampton Historical Society's collection of tools from the clock shop; many pieces of furniture, including a tall-case clock; and Nathaniel Dominy's memorandum book, which was purchased by previous Mayor Paul Rickenbach and his wife, Jean, who donated it to the village.
The money will fund the recreation of the original oak workbench. The check was handed over by preservation society board member Mary Busch. Also present was board member Joan Osborne.
Deputy Mayor Barbara Borsack also announced the creation of a new Facebook page for the village.
"It should be up and running within the next few weeks," Borsack said. "It's an excellent and easy way for people to contact us. The public can leave comments on the page and ask questions. So be on the lookout for that."
karen@karenfredericks.com
https://indyeastend.com/news-opinion/south-fork/village-board-buys-hybrid-vehicle/
---
Friday, February 21, 2020 8:03 AM
𝗖𝗼𝗺𝗽𝗿𝗲𝗵𝗲𝗻𝘀𝗶𝘃𝗲 𝗣𝗹𝗮𝗻 𝗨𝗽𝗱𝗮𝘁𝗲
One of the issues the Village Board needs to address is the need for an updated Comprehensive Plan for the Village. With sea-level rise and global warming new issues of importance, and resources available now in the area of renewable energy, there are many reasons to look again at our direction and priorities as a community. In addition, water quality, preservation, green space, workforce housing, parking, and traffic are more acute today than they were twenty years ago and new technology, science, and viewpoints should be discussed and considered going forward.
In the late 1990s the East Hampton Village Board of Trustees formed a committee of stakeholders, both residents and business owners, to discuss the future direction of East Hampton Village. Barbara Borsack, who was at that time a member of the Zoning Board of Appeals, was chosen to chair what would become the Comprehensive Plan Committee. When Barbara was asked to run for a seat on the village board in the 2000 election, she was replaced as chair of the committee by member Susan Ecker, who skillfully guided the committee to complete their task.
For the following two years the committee met regularly to talk about concerns and desires for the village, and the Comprehensive Plan was adopted by the village board in 2002. The plan's vision statement begins with "The Village of East Hampton treasures its extraordinary natural beauty and the architectural styles added by generations of residents who sought to enhance the natural beauty of the area rather than to overwhelm such rare splendor." It goes on to address the protection and preservation of the character of the village, seeking to secure the limits of the areas occupied by industrial and commercial enterprises as related to the area reserved for residential. Maintenance of open green spaces, historic structures, and quality of life were emphasized as being of utmost importance.
One of the results of this plan was the formation of the Village Planning and Zoning Committee, who were to meet regularly to continue the work of examining and updating the code as necessary. While this work has continued, and the Planning and Zoning Committee has been a valuable part of the Village's advisory boards, the document of 2002 also recommends updating the comprehensive plan every twenty years.
We strongly support the updating of the Comprehensive Plan and agree that this year, twenty years later as recommended by the original committee, is the right time to once again gather a group of stakeholders together to carefully and thoughtfully update the Comprehensive Plan for our present day.
Photo by Richard Lewin
---
Saturday, February 15, 2020 11:26 AM
Dominy Clock Shop "Moving Day"
East Hampton Village Director of Historic Services Robert Hefner, Trustee Rose Brown, Ray Harden, Mayor Rick Lawler & Deputy Mayor Barbara Borsack were on hand this morning for the moving of the Dominy Clock Shop to its final location on North Main Street.
---
Thursday, February 6, 2020 9:01 AM
About Barbara Borsack - Richard Lawler & Ray Harden
Barbara, Rick and Ray are lifelong residents of East Hampton Village. Each owns a home in the Village and has served in Village government.


𝗕𝗮𝗿𝗯𝗮𝗿𝗮 is a descendant of one of the early families of East Hampton and is the first woman elected to the Village Board of Trustees. She has been a trustee for 19 years and has served for two terms on the Village Zoning Board. She chaired the Village Comprehensive Plan which guides the Village today.
Barbara is also a long time board member of the East Hampton Historical Society, the East Hampton Healthcare Foundation and the Southampton Hospital Association.
She is an active 30-year member of the East Hampton Village Ambulance Association, serving two terms as the first woman to be elected Chief, and has personally responded to over 3,500 emergency calls.

𝐼𝑓 𝑎𝑛𝑦𝑜𝑛𝑒 𝑘𝑛𝑜𝑤𝑠 𝑡ℎ𝑒 𝑉𝑖𝑙𝑙𝑎𝑔𝑒 𝑜𝑓 𝐸𝑎𝑠𝑡 𝐻𝑎𝑚𝑝𝑡𝑜𝑛, 𝑖𝑡'𝑠 𝐵𝑎𝑟𝑏𝑎𝑟𝑎.
Rick is a fourth generation East Hampton resident who began with the East Hampton Town Police Department and then transferred to the Suffolk County Police Department, serving in various investigative and supervisory positions for 35 years.
Rick chaired the Village Planning Board and in 2008 was elected to the Village Board of Trustees. Rick has served as Police Commissioner and Beach Liaison since his election.
In addition to his work for village government, Rick has been a volunteer with the East Hampton Fire Department for 31 years.

Ray has been a village resident for 55 years. He is vice chair of the East Hampton Village Zoning Board of Appeals and is a member of the East Hampton Town Licensing Review Board. Ray has been in the construction business for many years and recently became owner of Ben Krupinski Builders.
Ray has served as the Chief of the East Hampton Fire Department, where he is a 21 year member. He is a Fire Coordinator for the Suffolk County 9th Division and President of the East Hampton Village Fireman's Benevolent Association.
Barbara, Rick, and Ray have been vigilant in the preservation and protection of East Hampton Village. They believe that clean streets and beaches, safe homes and neighborhoods, protection of historic buildings, parks and public spaces, the quality of the ocean, ponds, and groundwater, and a vibrant business center are important in preserving the village's character and environment.
Picture by Richard Lewin
---
Thursday, January 23, 2020 9:15 AM
Preserving Our Historic Village
The Village of East Hampton has been at the forefront of historic preservations since it purchased the Hook Mill in 1922, restored it to its original condition, and opened it as a museum which is one of the most recognizable and photographed buildings in the country. Since then the Village has continued to restore and preserve East Hampton's unique and beautiful historic buildings, greens, and properties - work that continues to this day.
Among the many places that residents can look to as part of their preserved heritage in addition to the iconic Hook Mill are: the Home Sweet Home Museum, the Gardiner Mill and House Lot, the Lyman Beecher House (Village Hall), and the Osborne-Jackson House. Most recently the Village used the Community Preservation Program to obtain a scenic easement on the Moran House and Studio and purchased and restored the Gardiner Mill Cottage. The Isaac Osborne House on the corner of Newtown Lane and Osborne Lane was purchased and restored to be used for additional office space, and the restoration of the Dominy home lot of North Main Street (in its original location), with the restored clock shop and woodworking shops attached to the recreated home, will be used as a museum when completed.
In addition to these wonderful properties, the Village has worked with residents to create four Historic Districts: Main Street, Hook, Huntting Lane, and Ocean Avenue. The Historic Preservation Ordinance protects buildings in those districts that are of historical significance from being razed or altered significantly and the Village Design Review Board works to oversee any changes that occur in those areas. In the Main Street Historic District alone, over half the homes were built before 1850. Also, the Timber Frame protection code is one of the most unique and important in the country, incentivizing owners of buildings that contain original timber frame construction to preserve these historic buildings for the future.
We are committed to the work of preserving and restoring our very important heritage as one of the earliest colonial settlements in the country. We hope to have your support as we continue this very important work in keeping East Hampton Village the special place it is today.
---
Thursday, January 16, 2020 9:14 AM
Opinion from The East Hampton Press (Jan 9, 2020)
Lose The Intrique

This Friday, January 17, the East Hampton Village Board will appoint a mayor to serve until a regularly scheduled election can be held in June — the previous mayor, Paul F. Rickenbach Jr., having decided to step down at the end of last year, before the completion of his term.

The four remaining members of the Village Board last week agreed to make an appointment instead of leaving the seat empty and having the deputy mayor, Richard Lawler, assume the mayor's duties without the mayor's title. State law appears to cut short the length of time a deputy mayor can act in a mayor's capacity, which helped convince the board that appointing a mayor now would be a better choice than having a deputy mayor with only limited powers running the village. The question of whether to appoint someone to fill the vacant fifth seat on the board before voters can elect a candidate has yet to be decided.

In an interview last fall, Mr. Rickenbach suggested that he was leaving before the expiration of his term at least in part because he wanted voters to be able to see his incumbent colleagues at work before the village elections — in which Mr. Lawler and another current board member, Barbara Borsack, will be running. That statement led to strident criticism from Jerry Larsen, who is running against Ms. Borsack for the mayor's spot, and who's had an acrimonious relationship with the village, including the former mayor, in recent years.

Appointing Ms. Borsack to temporarily fill the mayor's slot would give her an unfair advantage in the mayoral race in June, Mr. Larsen has argued. He argues, as well, against the board appointing Ray Harden, who's running for a seat on the Village Board on the Elms Party ticket, along with Ms. Borsack and Mr. Lawler, to immediately fill the vacant fifth board seat. Mr. Larsen's own ticket, the NewTown Party, has in Sandra Melendez its own candidate for a Village Board seat.

The board has not said whom it'll appoint on Friday, but Mr. Larsen's argument has merit. If the village follows the course he predicts, that could create an unfair advantage for the incumbents when the elections roll around. It may also be true, as Mr. Larsen has argued, that appointing Mr. Lawler, rather than Ms. Borsack, would be the better option, since Mr. Lawler is not running for the mayor's position, just for reelection to his current seat.

But it's also more than noteworthy that village voters have already chosen Ms. Borsack as well as Mr. Lawler — in her case, by voting for her repeatedly since 2000. She is the longest-serving member of the current board and perhaps deserves to be appointed the interim mayor on that basis alone.

One thing is clear: It would be a heck of a lot nicer to see, on Mr. Larsen's side, a campaign that doesn't throw around words like "scheme" and "charade," and, on Ms. Borsack's side, one that doesn't feel at least a little tainted by the mayor's early retirement. It would be good to see a race that sticks to the issues — one without all the intrigue.
---
Monday, January 13, 2020 11:42 AM
Village Board Candidates Promote Water Quality & Herrick Park Improvements
Water quality is one of the most important issues in our community and has been at the forefront of village concerns. Protecting the water quality of Town Pond, Hook Pond, and Georgica Pond and safe drinking water must be a number one priority.

The Village Board has strongly supported legislation and the Community Preservation Program to protect water quality and initiate programs to mitigate the surface water runoff that is threatening our waterways. They have taken a leadership role in plans to stop nitrogen, heavy metals, and bacteria from entering Georgica Cove, installed bioswales to filter runoff along the village greens, and installed filter technologies in street drainage basins to prevent contamination in Hook Pond. A comprehensive study of water quality issues was completed which, along with the availability of Community Preservation Funds, has given us the tools we need to move forward to protect these natural resources.

The Village has been actively applying for necessary permits from the state and the DEC to do this work and are happy to report that all are in place and a dredging project at Town Pond in 2020 to remove legacy contaminates in the sediment has been scheduled for completion this year.

Another important issue for us is the upgrading and improvement of Herrick Park, which is a point of pride to village residents. LaGuardia Associates was hired in 2019 to design plans for the upgrading and improvements in Herrick Park and those plans were recently presented to the public. Two properties adjacent to the park, recently purchased through the Community Preservation Program, have been included in the plans. We look forward to seeing these improvements and new additions to Herrick Park in the near future.

We welcome public input on these projects and encourage you to call, email, or stop into Village Hall anytime to ask questions or view information.

In June the village residents will be voting to elect a new mayor and two trustees. We would like to continue the good work we have begun and hope we will have your support.

Please spread the word to your neighbors by forwarding this email, speaking to them personally, hosting a meet & greet in your home with us, and by contributing to our campaign.

Contributions can be made by check to The Elms Party, PO Box 4037, East Hampton, New York, 11937. Contributions of up to $1000 per individual or business can be accepted according to NYS election law. Thank you for your help!

If you would like to host a meet & greet in your home please contact us and thank you!


Photo by Richard Lewin
---
Wednesday, January 1, 2020 7:39 PM
Village News

Photo by Richard Lewin
Happy New Year 2020!
There are many exciting things happening in your village that we would like to inform you about. One of these issues is how to improve the vitality of the commercial center when the age of internet shopping and large corporate interests are impacting local business, while we continue to protect the village residential areas.

We are mindful that public parking is in short supply and that new technology and parking design may help increase efficient use of the limited space available. The antiquated individual septic systems of the commercial properties in the village center limit options for different uses that could improve the mix of businesses, and improved sewage treatment will substantially upgrade water quality.

These issues began to overlap as water quality determines types of businesses that can exist in the commercial core, and second story apartments over shops could increase commercial core activity, but are prohibited by Suffolk County Health requirements.

Also, we must always guard against the type change that could destroy the historic character and charm of the Village of East Hampton.

After much discussion the village decided that the residents would best be served by hiring a professional consulting firm who would study all possible solutions and help the village board and residents make decisions. The firm Nelson, Pope, and Vorhees was hired this fall and the first meeting with them and the citizens advisory groups was held in October. The village is looking forward to working with them on these important initiatives.

Furthermore, last year the village was able to purchase two adjoining properties to Herrick Park and we look forward to expanding the boundaries of the park in the near future. As part of that project the village hired a landscape design firm who presented the preliminary plans they have developed at a public meeting in December. We have been listening to feedback from that presentation and will continue to fine tune those plans. We anticipate seeing some of those planned improvements in the coming year.

These are two of the exciting things that are in the works. We look forward to updating you and communicating again in the near future. There are good things happening in 2020!

The Elms Party

Trustee Barbara Borsack – Village Trustee and Candidate for Mayor in
2020
Trustee Richard Lawler - Village Trustee and Candidate for Trustee in
2020
Ray Harden – Village Zoning Board member and Candidate for Trustee in
2020


Please feel free to share this email with your village friends.
---
Tuesday, December 17, 2019 12:24 PM
Vigil At Hook Mill
On a rainy Saturday afternoon at Hook Mill Barbara and her husband attended a vigil to honor the victims of the Sandy Hook tragedy and other victims of gun violence.

The Independent Article - Vigil At Hook Mill
---
Sunday, December 8, 2019 9:24 AM
Annual Santa Parade
Trustees Rose Brown, Rick Lawler, Tiger Graham, and Barbara Borsack participated in the Santa Parade on Main Street yesterday.


---
Thursday, November 28, 2019 7:28 AM
East Hampton Star Article
East Hampton Village Has Big
Plans for Centennial Celebration

A Fourth of July parade in East Hampton Village in 1921
By Star Staff
November 27, 2019
To mark the 100th anniversary of the incorporation of East Hampton Village, there will be a series of events in 2020, beginning in January with the unveiling of a new village seal and culminating with a centennial parade and other festivities on Sept. 26.
In August 2018, Mayor Paul F. Rickenbach Jr. appointed Barbara Borsack as chairwoman of the centennial celebration committee. At the time, Mr. Rickenbach recounted the history of the village's formation. On Sept. 25, 1920, he said, residents had voted, by a margin of 166 to 57, to break away from East Hampton Town. "Needless to say, we have all reaped the benefits of this vote," the mayor said.
The centennial committee includes Rose Brown, a member of the village board, and representatives from the East Hampton Clericus, the Hamptons International Film Festival, the East Hampton School District, the Ladies Village Improvement Society, the East Hampton Library, the Garden Club of East Hampton, and the Village Preservation Society, among others. Ms. Borsack has enlisted Bess Rattray, the editor of The Star's East magazine, to organize the parade day events.
Over the past year, Ms. Borsack said, committee members have been coming up with ways to celebrate the occasion. Plans are still being firmed up, but as of now, she said, presentations on the history of the village and the town will be held, schools will incorporate lessons about the 1920s into their curriculums, and a time capsule will be buried. "It will be a yearlong community event," she said.
To kick things off, a new village seal that acknowledges the centennial will be unveiled at the first board meeting of the new year. It was designed by Scott Bluedorn, a local mixed-media artist. "It's very pretty," said Ms. Borsack. "I'm excited to show it off."
On Parade Day, Main Street will be closed to traffic, as it was in 1998 during the celebration of East Hampton Town's 350th anniversary. "I remember thinking [the closure] was a once-in-a-lifetime thing," said Ms. Borsack. "Now I'm happy we're going to have a second opportunity."
"There's something so thrilling about being able to walk down the middle of Main Street," said Ms. Rattray. The parade, she said, will be held in the morning. There will be about 20 1920s-theme floats, and Hugh King, the village's historic-site manager, will be perched on a reviewing stand, announcing the floats as they go by.
Ms. Brown thought up the theme for one of them: a replica of Village Hall with the members of the board on board. James McMullen, an architect and the chairman of the Design Review Board, has agreed to design it, she said, and Ray Harden, the co-owner of Krupinski Building and the vice chairman of the Zoning Board of Appeals, will construct it. "It's amazing to have so many talented people donating their time and effort," Ms. Brown said.
In addition to the floats, there will be musical performances by Dixieland bands, and the handbell choir from the East Hampton Presbyterian Church. A team from the Dance Hampton studio will perform a '20s-era dance.
Food vendors will be stationed along Main Street. Ms. Brown said that Harbor Bistro, Dreesen's, and Homeslice Pizza are a few who will be on hand. And village restaurants plan to offer $19.20 specials.
The L.V.I.S. will provide tea service and jazz, and movies from the Roaring Twenties starring actors such as Buster Keaton and Charlie Chaplin will be shown at Guild Hall. LTV, the public-access broadcaster, has been tasked with finding vintage footage of village people and places.
There will be tours of historical village houses and gardens, and, to get Main Street storeowners into the spirit of the occasion, Ms. Borsack and Ms. Brown plan to introduce a resolution that would permit them to decorate their businesses in red, white, and blue bunting on the day of the event (also on Memorial Day, the Fourth of July, and Labor Day).
To cap off the day, there will be a baseball game at Herrick Park, which will include the singing of the national anthem, as well as performances by the East Hampton High School acappella group and other musicians.
Anyone interested in entering a float in the parade or volunteering in any other way have been asked to email EHVcentennial@easthamptonvillage.org.
---
Sunday, November 24, 2019 11:22 AM
Letter to editor East Hampton Star
Lawsuit Dismissals
East Hampton
November 12, 2019
Dear Editor,
I am writing to give you some background on some recent disturbing events regarding the upcoming village election.
As stated in my letter to the editor of two weeks ago, Mr. Larsen and the village parted ways at the end of 2016. I will not get into the reasons for that here. I simply want to make it clear that what has happened since then goes beyond the bounds of what some would think is customarily part of a normal village election campaign.
As was reported in The Star, Mr. Larsen sued the village shortly after his separation, and in that suit alleged things about me that he knew were blatantly false. Why he targeted me in particular is anybody's guess. I believe I know the reasons for it, but I will not speculate here. Fortunately, the lawsuit was dismissed, but not before great cost to the village taxpayer. To demonstrate the frivolousness of his suit, he proceeded to sue the village a second time, for not supplying him with requested information under the Freedom of Information Act for his first lawsuit. Curiously, he filed the second lawsuit even before the allotted time frame for supplying the originally requested information had elapsed. That suit also was dismissed, but, again, not before costing the village taxpayer thousands of dollars.

I mention the initial lawsuits as the precursor for what was to come. After the lawsuit dismissals, Mr. Larsen began a campaign of continuing FOIA requests to the village in the hopes of finding something that the village board, and in particular me, had done that could be construed as illegal or unethical.

In all, he has requested information from the village a total of at least 12 times since his separation. The bulk of those have been since he began his campaign for mayor. Most can be considered legitimate inquiries, with some exceptions. He always makes them very general in nature, and in many cases he singles me out when requesting information. This suggests that he is on a fishing expedition, rather than a legitimate effort to support a belief that he may uncover some wrongdoing. His requests range from his original lawsuit, having no merit, to the very mundane request for the Fire Department gym records. What information he hopes to glean from gym records one can only imagine. Again, these requests require a great deal of manpower and expense in order to fill. One such request took 30 employee hours to complete. He knows that if the village should innocently miss supplying him with just one piece of paper that pertains to his request, he could then sue us for not completely filling that request.

Most recently, his FOIA requests have taken on a more personal and perhaps sinister nature. In the last month, he has requested all information that the village has on two properties that I am associated with in the village, including my personal residence. I am not concerned with what is in those records. My concern is that he is using the guise of his campaign to intimidate me from exposing pertinent information about him.

My concerns are supported by the fact that his latest FOIA request for my personal residence records occurred early Friday morning, Nov. 8, the day after my letter exposing his unethical issues appeared in your paper. To me, that is a clear effort to intimidate, since those records have nothing to do with the issues most important to village residents.
The other curious thing about all of this is that I am not even running against Mr. Larsen for mayor in this election.

Therefore, there is no other reason for him to target me other than for personal reasons.Sadly, Mr. Larsen has opened the door to this unnecessary dialogue, and it is my sincere hope that moving forward we can all concentrate on those issues that will affect village residents in the future. Our continued existence as one of the "most beautiful villages" you will find anywhere is at stake.

Sincerely,
RICK LAWLER
---
Sunday, November 24, 2019 9:25 AM
Letter to editor East Hampton Star
Tired of It
East Hampton
November 18, 2019
Dear David,
I am not one to write letters to The Star but after the constant articles on and letters from Jerry Larsen, I now feel compelled. Quite frankly, I, and many others, are tired of it and are more concerned in the affairs of this beautiful village. It is a shame how personal this has become for him, and none of this has to do with the issues, so I am going to be as quick and precise as possible.
It is a well-known fact that Mr. Larsen is renting a one-bedroom apartment in the Village of East Hampton. It is also very well known that he is not living there. Therefore, he is not paying village taxes — the village that he cares so much about.
Another fact is that apparently, his contract was not renewed as chief of police. While he received some awards and recognition, it is obvious that he abused his powers and responsibilities while being the chief.
My question would be: What were those abuses?
I think the above says something about Mr. Larsen's character and, quite frankly, I don't think this is someone I would want making decisions regarding the village. Let's stop the finger pointing and stating untruths.
I anticipate that next week Mr. Larsen will take this, twist it, turn it around, and try to defend himself, once again. That only serves for Mr. Larsen to get some self-satisfaction, nothing to do with his vision for this village, which makes me wonder what his real motives are.
I urge him to stick to the issues of the village and stay away from any further mud slinging. Enough is enough! Move on!
Respectfully yours,
VERONICA STROEBEL
---
Friday, November 8, 2019 8:02 AM
Letter to editor East Hampton Star
November 4, 2019
Dear Editor,
In response to recent statements that appeared in the local press regarding Mayor Rickenbach's opinions about transition plans upon his retirement in December, we would like to make the following clear to the public:
We respect the mayor's decision to announce his impending retirement in December, and we believe that any decision regarding how best to transition from the mayor's retirement to the June election should be made openly and transparently.
There is no vacancy at this point and the mayor has indicated he won't retire until Dec. 31. Should the mayor formally retire in December as he has indicated, we believe the board should have a public discussion at a public meeting before deciding on how best to facilitate the transition.
The most important thing in our opinion is for the village to be efficiently and effectively managed during the transition period until the next mayor is elected in June and installed on July 1.
Jerry Larsen's false allegation that the village board is being unethical by simply following New York State law after Mayor Rickenbach leaves office at the end of this year is offensive. The law provides that the deputy mayor shall assume the responsibility in the absence of the board appointing a mayor until the next election.
Mr. Larsen's unethical assertion is unfortunately typical of his self-serving propensities, since it was his own lack of ethics and abuse of authority for his own personal gain during his tenure as village chief of police that precipitated the unanimous decision of the village board to refuse to renew his employment contract with the village in 2016.
Sincerely yours,
RICK LAWLER
Deputy Mayor
BARBARA BORSACK
Village Trustee
---
Saturday, November 2, 2019 9:41 AM
Real Men Wear Pink Cocktail Party
In 2011 Barbara Borsack founded the "Real Men Wear Pink Cocktail Party". With a committee of 15 friends this event has taken place every October. This year, on October 19th, it was held at The Clubhouse in East Hampton. Three local cancer charities benefit from this event, the Ellen Hermanson Breast Center at Stony Brook Southampton Hospital, the Women's Cancer Coalition of Stony Brook Southampton Hospital, and Lucia's Angels, all of which assist women on the East End of Long Island who are dealing with cancer. Many thanks to the local businesses who donate items for the raffle and silent auction, the many folks who attend, and the women who give of their time and energy to make it all possible!
---
Tuesday, September 24, 2019 12:02 PM
Village Board Meeting
Friday, Sept 20th, The East Hampton Village Board approved the promotion of Greg Brown to Police Lieutenant, and Anthony Long to Police Captain, congratulations to both men.
---
Monday, September 23, 2019 8:00 AM
Historic Baseball Game
Trustees Barbara Borsack, Rose Brown, and Tiger Graham attended the baseball game sponsored by the East Hampton Historical Farm Museum at Herrick Park Sunday, September 22nd.
The game was the first game in 100 years between the Maidstone Mugwumps and the East Hampton Bonac team, which had been an annual tradition for many years.
---
Wednesday, September 18, 2019 6:23 PM
Ground Breaking
Village Board members joined Town Supervisor Peter VanScoyac and Fire and Ambulance Chiefs at a groundbreaking ceremony for the new substation being built in Northwest Woods.
---
Thursday, September 12, 2019 10:50 AM
9-11 Memorial Service
Last nights 9-11 Memorial Service was attended by Barbara Borsack, Richard Lawler & Rose Brown representing the village board.
Photo by: Douglas Kuntz (E H Star)
---
Friday, August 30, 2019 11:31 AM
Living in and working for the village since 1952
Photo taken for the East Hampton Star in 1956 in front of Barbara Borsack's family home on Accabonac Road to promote voters to vote on the acquisition of property on Church Street for construction of a new elementary school. Barbara is standing center right in front of her mother and joined by neighbors and other family members.
---
Thursday, August 22, 2019 2:10 PM
Opinion "The East Hampton Press"
From the August 21st edition of
The East Hampton Press
---
Monday, August 19, 2019 7:52 AM
Ellen's Run
Barbara worked this year on the registration desk supporting Ellen's Run. This is her tenth year.
Barbara is a breast cancer survivor and is in this years picture.
---
Thursday, August 8, 2019 6:48 PM
Gas-Powered Leaf Blowers Banned
Gas-Powered Leaf Blowers Banned
For The Summer In East Hampton Village
Click to read article from 27East.com
---
Monday, August 5, 2019 8:26 AM
Stony Brook Southampton Hospital Annual Summer Party
On Saturday, August 3rd, Stony Brook Southampton Hospital hosted its 61st Annual Summer Party in the fields at Wickapogue Road and Old Town Road, Southampton. The Annual Summer Party is a landmark event in the Hamptons and this year benefits the Jenny & John Paulson Emergency Department. Barbara & Ted Borsack were among those in attendance
---
Monday, July 22, 2019 9:06 AM
East Hampton Historical Society Party
In 1884, the Moran Family moved into the Thomas & Mary Nimmo Moran Studio and House on Main Street, the first artist's studio built in East Hampton. On Saturday, July 13, at a private oceanfront estate, the board of the East Hampton Historical Society invited members and supporters to celebrate the studio's membership in the National Trust for Historic Preservation, and the recent opening of their newest exhibition, "Thomas Moran Discovers the American West."
Barbara Borsack has been a long time member of the board of the East Hampton Historical Society and is shown here with Joseph Aversano and Mike Clifford.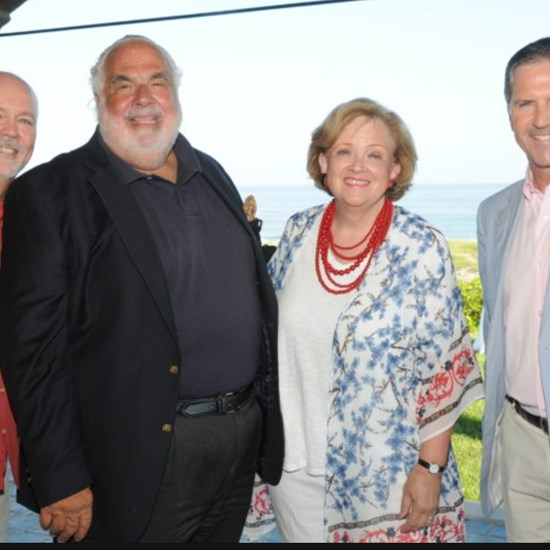 Photos by: Richard Lewin
---
Friday, July 5, 2019 9:48 AM
Fundraiser At Ina Garten's
Over 100 supporters partied in Ina Garten's lovely gardens and home in East Hampton on Saturday, June 29, in support of Barbara Borsack, a candidate for mayor in East Hampton Village in 2020. Along with Borsack, running mates Rick Lawler and Ray Harden joined the guests in kicking off the holiday week by enjoying food and drinks provided by Ina and her husband Jeffrey.
The Independent
---
Saturday, June 8, 2019 10:31 AM
Gardiner Mill Cottage Gallery Opening Celebration
Last evening Barbara Borsack and Richard Lawler attended the opening celebration of the recently completed Gardiner Mill Cottage Gallery.
Barbara Strong Borsack & Richard Lawler
Gardiner Mill Cottage Gallery / Opening Reception June 7, Open Weekends
---
Thursday, May 23, 2019 7:18 AM
Village Beautification Project
Village Trustees Rick Lawler, Rose Brown & Tiger Graham along with members of the LVIS and Village DPW inspecting new planters along Newtown Lane. The planters are part of a continuing beautification project along Newtown Lane and Main Street.
---
Sunday, April 28, 2019 8:30 AM
Hedges-Edwards Barn opening at Mulford Farm
Barbara & Ray attended the opening of the Hedges-Edwards barn yesterday at Mulford Farm on James Lane.
Celebrating the Hedges-Edwards Barn (East Hampton Star)
---
Friday, April 26, 2019 7:32 AM
Cancer Center Opening
Just attended the opening of the Stony Brook Southampton Hospital Phillips Family Cancer Center. I'm thrilled to see this state-of -the-art facility right here in our community!
Susie Roden, Barbara Strong Borsack and Stacy Quarty
(Photo by Richard Lewin)
Barbara Strong Borsack & Robert I. Ross
(Photo by Richard Lewin)

Kenneth B. Wright with his wife & Barbara Strong Borsack
(Photo by Richard Lewin)
The Phillips Family Cancer Center
27East Article About Cancer Center
---
Monday, April 22, 2019 7:45 AM
Village Board Meeting 04/18/2019
Click To View Video Online (courtesy LTV)
---
Sunday, March 31, 2019 12:00 AM
Ellen Hermanson Foundation "In The Pink" Fund Raiser
Barbara presented a proclamation to Rita Wasserman, from the Village of East Hampton, for her years of community service. Ellen Hermanson Foundation "In The Pink" Fund Raiser.
Steven Bernstein, Lawrence Alan Roth, Barbara Strong Borsack & Robert Ross
(Photo by Richard Lewin)